Looking for a great new apartment in the Fargo area? Look no further—Cityscapes Plaza has the best apartments in town and we can prove it! Thanks to the votes of our amazing residents and community members, we've received the "Best Apartments" award from Locals Love Us Fargo for their 2023 guide.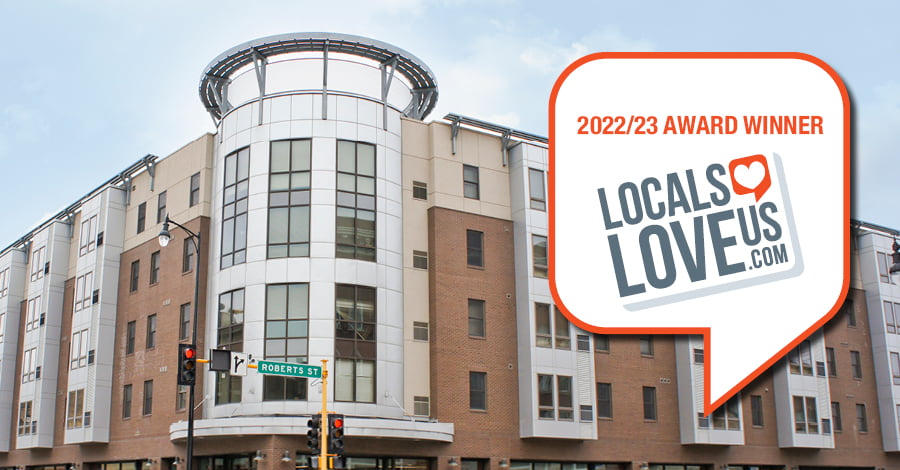 What is Locals Love Us?
Every year, Locals Love Us compiles a guide full of the area's best businesses based on votes from members of the public. Locals Love Us covers a broad range of business categories, from contractors to day spas, in order to get the most comprehensive list of great local businesses. In addition to helping promote businesses and organizations they love, locals are also entered into drawings for great prizes just by submitting their votes.
Only businesses that were voted for and chosen by locals can make it into the Locals Love Us guide, making it a valuable resource for people looking for trusted professionals in their area. The current guide can be found on the Locals Love Us Fargo website.

More About Our Award-Winning Apartments
Cityscapes Plaza is an apartment complex built for exciting living in the heart of Downtown Fargo. Featuring many great amenities, a variety of floor plans, and a perfect location, there's something for everyone to love. Cityscapes Plaza is the ideal home for those looking to live within walking distance of many Downtown Fargo attractions and restaurants.
Amenities—From central air and heat to free high-speed internet, Cityscapes Plaza is the modern renter's dream! Plus, you'll love the convenience of our on-site fitness room, in-unit laundry*, and heated underground parking.
Floor Plans—We feature a variety of floor plans, so you're sure to find a unit that fits your needs perfectly. Our deluxe apartments are available in studio, one-, two-, three-, and four-bedroom floor plans. We even offer a move-in ready corporate unit for business travelers.
Location—You'll love living in dynamic Downtown Fargo! Cityscapes Plaza is located within walking distance of some of the city's best bars, coffee shops, boutiques, and more. Plus, the arts and entertainment scene is thriving downtown with great spots like the Fargo Theatre, The Aquarium, and the Plains Art Museum.
*Amenities vary based upon availability.

If you would like to make Cityscapes Plaza your next home, contact us today to schedule a showing. Plus, check us out on social media to see what we're up to!